"Love one another as I have loved you."
John 15:12
At Brabin's we are more than friends – we love and value one another as part of God's family. We respect each other and strive to achieve our best when we are learning and in all we do.
The Ethos of this voluntary controlled school is:
Recognising its historic foundation in 1684, the school will preserve and develop its religious character and association with the Church of England, which has continued since its foundation, and will work in partnership with the Churches in the community.
The school aims to serve its community by providing an education of the highest quality within the context of Christian belief and practice. It encourages an understanding of the meaning and significance of faith, and promotes Christian values through the experience it offers all its pupils.
As a school with religious character, Brabin's Endowed strives for the teaching and learning of religion to be meaningful, creative, well managed and enjoyable. Our most recent outstanding Ofsted report stated that, "pupils' spiritual, moral, social and cultural developing is well provided for." Furthermore, the school holds a good reputation within the local community which is celebrated but not taken for granted.
Reception visit to St Bartholomew's 23rd May 2022
Worships planned by Year 5/6 and delivered to Reception ~ Spring term 2022
Christingle Celebration – December 2021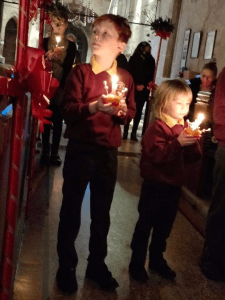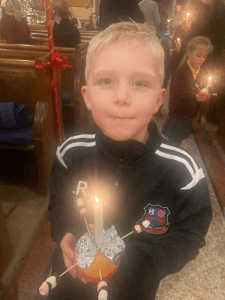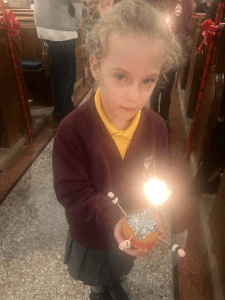 Year 3/4 Visit to St Bartholomew's church May 2021
Christingle celebration – December 2020
Class worships with Rev Fiona – September 2020
Reception Visit to St Bartholomew's – May 2019 
As part of our RE unit special places, on 8th May we visited St Bartholomew's church in Chipping.
Rev Fiona showed the children around the church, we looked at the key parts such as a font, altar and pews. We even got to watch a teddy being christened which the children loved!
Weekly Worship with Rev Fiona – 2019